[FT] Spoiler Zone!


What is the next promo?
This Thursday--Easter egg decoration.


Anyone know when the next chance to get a Gemstone horse will be (like Sapphire and stuff)?
That's something that nobody has the privilege of knowing, unfortunately

New May Divine.
Posted messages: 93
Karma: 10 points


What's the next promo?
The GC and Lottery and should start on Thursday.
Yikes, I'm bad at using forum post formatting. I'm just not going to use formatting this time LOL

All 12 Yggdrasil stages, frame by frame:

https://www.youtube.com/watch?v=t-W3vHsVXso

Could a moderator delete my other two posts?
What promo should I expect next? And are there any ideas on when it will start?
Posted messages: 775
Karma: 10 points


What promo should I expect next? And are there any ideas on when it will start?
The cards should start tomorrow, then the French Hike where we will get a new breed.
Yessss I love the cards! heck yeah
Posted messages: 758
Karma: 10 points
Can i spill secrets here?

Posted messages: 9
Karma: 10 points


Can i spill secrets here?
You can post about any upcoming events that have not yet been released but it must be under spoilers.
If you are not sure how to do spoilers click on the icon above that looks like an eye and put your text between the spoilers.
Never used this action before , thanks for the help MPolce. Got it!


Posted messages: 86
Karma: 10 points
Prizes for upcoming event-
Glad to see that the prizes are getting better. Hope they're not too hard to get
Does anyone know what the Diamond card in ''My gift cards'' is?
Thanks


Does anyone know what the Diamond card in ''My gift cards'' is?
Thanks
It's the wild horse Misaki
Posted messages: 15
Karma: 10 points
ℳℴℴₓℯ.
What event is that for? And what is a Shika?
What event is that for? And what is a Shika?
It's for the upcoming flower event, called Ikebana.

The Skika is a companion, it adds +8 skill points to trot.
Upcoming Event-
The Ikebana Event:
In the Japanese culture, Ikebana is the art of flower arrangement.
During this event, win gifts by merging flowers!
• º • º • º • º • º • º • º • º • º • º • º • º • º • º • º • º • º • º • º • º • º • º • º •
How it Works:
You will have to merge ingredients (flowers) to-
•Create more valuable ingredients (make them evolve)
•Win gifts
•Win Shika Jackpot
•Win Sakura fragments
• º • º • º • º • º • º • º • º • º • º • º • º • º • º • º • º • º • º • º • º • º • º • º •
Ingredients:
How to Get Them-
•Win the first 3 ingredients (A, B, C) over time
•Ingredient A: You have 3 slots that you can refill over time or buy when emptied.
•Ingredient B: You have 5 slots that you can refill over time or buy when emptied.
•Ingredient C: You have 6 slots that you can refill over time or buy when emptied.
Once you used all the ingredients you had in your inventory, the ingredients are shaded and a "+" appears. You can wait until the refill (see the timer) or buy these ingredients with passes. The timer indicates when your Ingredient inventory will be *fully* refilled.
•Merge 2 identical ingredients to obtain a more valuable one (ex: A+A=B, B+B=C, C+C=D, D+D=E etc.)
•The only way to obtain ingredients D, E, F and G is to merge identical ingredients (ex: C+C=D, D+D=E,etc.)
•You can obtain ingredients B and C by merging ingredients (ex: A+A=B, B+B=C)
•The only way to obtain ingredient A is to wait or buy them
• º • º • º • º • º • º • º • º • º • º • º • º • º • º • º • º • º • º • º • º • º • º • º •
How to Win Gifts:
Merge two *different* ingredients to merge gifts (listed below)
The Jackpots-
Shika (Blossom Deer Pet):
•Merge the 2 most valuable ingredients : H+H=Shika!
•Shika adds +8 skill points to trot skill when awake
((To keep Shika's visual appearance a secret until it is revealed on the live version, you will only see a placeholder image))
• º • º • º • º • º • º • º • º • º • º • º • º • º • º • º • º • º • º • º • º • º • º • º •
Sakura:
•Sakura can also be found in Golden Fleeces
•Same behavior as other
Japanese horses
•Sakura's main gift: Hera's Pack
•Also offers: "another surprise" (feed, equus, etc)
The Prizes-
A + B = 8x fragments
A + C = 1* classic saddle
A + D = shower
A + E = horse shoe studs
A + F = helios' ray
A + G = achilles' heel
A + H = horn of plenty

B + C = 25x mash
B + D = 5x ageing points
B + E = hypnos' blanket
B + F = pandora's box
B + G = vintage apple
B + H = chronos' timer

C + D = 500x droppings
C + E = apollo's lyre
C + F = artemis' arrow
C + G = 100,000x equus
C + H = 5th element

D + E = piece of cloud
D + F = ow's helios' ray
D + G = aphrodites' tear
D + H = philosopher's stone

E + F = ow's helios' ray
E + G = bonus pack
E + H = harmony pack

F + G = poseideon's pack
F + H = hera's pack

G + H = hestia's gift
H + H = Shika companion


What's the next promo?
The very next promo is--
Great Challenge - Derby


Complete objectives to win horseshoes and collect prizes!


Great Challenge Phase

Players will have 3 daily objectives. By completing them, players will win horseshoes that can give the players:

game items, offered immediately after the threshold is met
the commercial offer to get the divine horse more easily during the festivities
As usual, players have 3 days to realize an objective before it disappears.


Helping other Players
If players complete the current day's 3 objectives, they can help other players to complete their objectives. If it is the first time of the day that a player helps another player, they unlock a bonus item that they will receive at the beginning of the festivities.

To help players complete their objectives, they can :
skip the objective by giving a Black Market item to Ow
ask for help from other players by giving Equus, for the 3rd objective of the day


VIP players can try to win the Jackpot Friggja in the Titan's Challenge before anyone else. They benefit from the commercial offers on divine fragments immediately when they unlock them.


Derby Phase

During this phase, players can play horse races. Automatic races have returned!
They get a free race at the beginning of a day (according to the community goal of the Great Challenge part).

They can also buy them with Equus but the price increases each time.

How it works

When the player starts a race, they can choose which horse they will play.
During the race, players have to launch a ball towards the holes.
[TIP] Players can decide the speed of the ball by adjusting how long the mouse button is held before releasing.
After the launch of the ball, the choosen horse moves according to the value of the hole.

Then, other horses also move. The player has to launch balls until their horse arrives at the finish line. At the end of a race, players receive flags. The better the position of the player's horse in the race, the higher the number of flags she/he will get.

Players can use Bonus Items to help them win a race.

Bonus Items
Only 1 Bonus item per launch can be used

How to get Bonus items :
when helping other players during the Great Challenge part
when asking some to my friends (by giving Equus, and in a limited quantity). (And players can offer some to their friends who have asked for them, with a limit of 1 per friend per day)
when winning competitions with horses
from special UFOs
when buying BM items with passes (except for Black Pearl and Aging points items)


Jackpot


Friggja, a new Nordic special horse
Friggja is a Pegasus whose gift is a Hestia's Gift!
New divine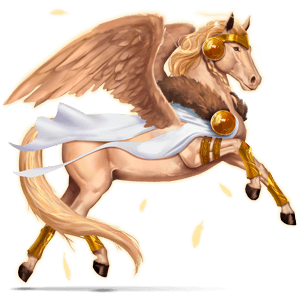 She is a pegasus that belongs to the Nordic divines.Her gift is Hestia's Gift
And the promo after the above is--
Piñatas Darumas

Same principle as the other editions of the Piñatas!

This time, the Darumas replace the Piñatas we use to have.

Darumas are little Japanese statues that can be painted for good fortune.

Instead of hitting piñatas, players are going to paint Darumas!

Each click on a Daruma will fill a gauge. Once completed the Daruma is fully painted and the player receives a gift!

How do we play?

Click on the Daruma in order to fill the gauge. Each Daruma has a growing number of points required as you progress in the contest.

Clicks reload over time and stack up in the gauge. Each slot corresponds to a click. The points value of a click is also given.

You can buy Brushstrokes with passes if your click gauge takes too much time. (Replaces Mace Blows)

Note: The clicks in the gauge are prioritized over the brushstrokes.
You can ask for help from your friends by using equus. (5 points per click from a friend). Don't forget to help them in return!


Objectives


Each Daruma will have 2 objectives to complete. Once completed, objectives will give you bonuses:
They can increase the number of clicks on the gauge.
They can make a single click more powerful.
They can increase the frequency of clicks.
They can allow more of your friends to help.
They can give points to the current Daruma.


Jackpots

Level 16 - Falabella (Petit)
Level 20 (Last Darumas) - Maneki Neko

Maneki Neko is the brand new horse from the Japanese divine horses series. She'll give you Omikujis every day when she wakes up.
Her gift is 100,000 equus.


New to this edition
Once a Daruma is completed, you have to claim your gifts. This way, you can easily complete an objective and receive a bonus before moving to the next Daruma.



Community Goal
Once completed, it doubles the points offered by friends' clicks!
Divine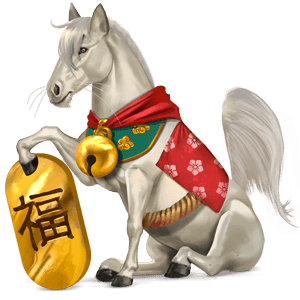 Maneki-Neko will give you Omikujis every day when she wakes up.
Choose one of them and win a prize from among:100,000 x Equus
Another surprise
MPolce
Looking forward for these events! I guess i'll have to start saving!
Upcoming Event (not the next one, but the one following that) -
º •º•º•º • º •º•º•º • º •º•º•º • º •º•º•º • º •º•º•º • º •º•º•º • º •º•º•º • º •º•º•º
The Basics-
Wandering Horses

• Perform actions in order to receive wandering horses
• Use Evil Essence to fill the points bar
• Also, use Evil Essence to age wandering horses (like ageing points)

Obtain Evil Essence by-
> catching UFOs
> occasionally when a wandering horse wakes (like ageing points)
> buy them with passes

Available prizes during the event-
> 12 wandering horses
> 1 divine horse (Hela; a Nordic Divine)
> various items throughout
º •º•º•º • º •º•º•º • º •º•º•º • º •º•º•º • º •º•º•º • º •º•º•º • º •º•º•º • º •º•º•º
More Basics-
The Wandering Horses-

Key:
Wandering Horse Name — how to obtain (number of actions required)
[ number of points per action ]
> prizes to win along the way
**note: points per action may be different on the live version**

Wendigo — give apple to horse during tutorial
[ 100 points per action ]
> fertility wand (100 points)

Grim Reaper — congratulate a player (20 congrats)
[ 5 points per one congratulations ]
> coloured polo wraps (50 points)
> owl pet (100 points)

Chupacabra — equip wandering horse for first time (6 horses)
[ 17 points per wandering horse equipped ]
> 100 carrots (25 points)
> apollos lyre (50 points)
> 30 divine fragments (75 points)
> 100,000 equus (100 points)

Banshee — age wandering horses with 'evil essence' (100 horses)
[ 1 point per action ]
> 200 droppings (25 points)
> piece of cloud (50 points)
> 120 divine fragments (75 points)
> book of monsters (100 points)

Haunted Doll — groom wandering horses (7 horses)
[ 15 points per groom ]
> 50 mash (50 points)
> coloured saddle cloth (75 points)
> helios' ray (100 points)

Bogeyman — finish training a skill on wandering horse (6 skills)
[ 18 points per action ]
> 3* bridle (25 points)
> plutos parchment (50 points)
> 80 divine fragments (75 points)
> chronos' timer (100 points)

Baron Samedi — donate shop items to friends (3 gifts)
[ 34 points per donation ]
> 5,000 equus (50 points)
> black orchid (100 points)

Baba Yaga — reach a divine horses birthday (7 bdays)
[ 15 points per birthday ]
> 5 ageing points (25 points)
> zeus' lightning bolt (50 points)
> 70 divine fragments (75 points)
> bonus pack (100 points)

Bloody Mary — give mash to wandering horses (10 mashes)
[ 10 points per mash given ]
> coloured ear bonnet (50 points)
> 10 divine fragments (75 points)
> medusa's blood (100 fragments)

Evil Clown — enter wandering horses into competitions (147 comps)
[ 0.68 points per competition ]
> horseshoe studs (25 points)
> achilles heal (50 points)
> 130 divine fragments (75 points)
> titan's challenge (100 points)

White Lady — donate horses to Ow (10 horses)
[ 10 points per horse donated ]
> 1,000 equus (25 points)
> 3* saddle (50 points)
> 20 divine fragments (75 points)
> bewitched pumpkin (100 points)

Community Wandering Horse --
Age wandering horses using Evil Essence as a community
º •º•º•º • º •º•º•º • º •º•º•º • º •º•º•º • º •º•º•º • º •º•º•º • º •º•º•º • º •º•º•º
The Divine-
> Obtainable by use of Titans Challenges throughout the event.
((Through my attempts, I have received around 9-18 fragments per TC))
> Collect fragments from points towards wandering horses
((As shown in the previous spoiler))

Collect all wandering horses to unlock 3x fragments promotion

Divine: Hela, one of the Nordic Divines

"Lift the veil that has descended on the Nordic worlds by winning points with rides to Asgard, Midgard and Niflheim. Take care when choosing which ride to go on!

When you get to 900 points, the veil is raised and Hela gives you a prize:
1 x Book of Monsters

This mare cannot be sold

You can increase her skills by using your passes"
º •º•º•º • º •º•º•º • º •º•º•º • º •º•º•º • º •º•º•º • º •º•º•º • º •º•º•º • º •º•º•º
The Prizes-
Images-
Wendigo -.-.-.-.-.-.-.- Grim Reaper -.-.-.-.-.-.-.- Chupacabra -.-.-.-.-.-.-.- Banshee
Haunted Doll -.-.-.-.-.-.-.- Bogeyman -.-.-.-.-.-.-.- Baron Samedi -.-.-.-.-.-.-.- Baba Yaga
Bloody Mary -.-.-.-.-.-.-.- Evil Clown -.-.-.-.-.-.-.- White Lady -.-.-.-.-.-.-.- Nightmare
Hela (Divine)